Visit the Garden
Hours
Open: Wednesday – Sunday: 9 am – 4 pm
Closed: Monday & Tuesday, and select holidays
***The Garden has no paid employees; it is operated solely by volunteers.
Location
Clovis Botanical Garden
945 N Clovis Ave Clovis, CA 93611
(between Alluvial & Nees)
Click the address to popup a Google Map.
Mailing Address: 1865 Herndon Ave, Ste K Box 330 Clovis, CA 93611
(559) 298-3091
[email protected]
Cost
Admission to the Garden is free for children and adults.
Donations are welcomed and appreciated.
Children must be accompanied by a responsible adult.
Dogs are welcome on a leash.
Tours
For $5 a person, guided tours can be scheduled two weeks in advance by emailing the garden. Tours are available for groups of four to ten people. Staff is available to lead tours at 10:00 a.m. on Wednesdays, Fridays, and Saturdays. Check the Event schedule on the webpage for specially scheduled tours on some Saturdays. 
School groups must have minimum supervision of one adult per 10 students. The white canopy may be reserved for lunch or lessons in the event visiting staff have prepared something additional for their group.
Professional Photographers
The garden is pleased to welcome photo shoots in the garden. The garden requests a donation of $25 from professional photographers. Everyone wants to get that special shot, but please remember to stay on the pathways and out of the planting beds. If you wish to take photos in the garden outside of the garden hours, please email the garden in advance to see if a volunteer is available to accommodate your request.
Garden Maps
How You Can Help
Become a Member of CBG
Supporting the garden will help ensure its preservation. With your support through membership dues, we can continue to develop the garden and its services.
Volunteer at the Garden
Without dedicated volunteers giving freely of their time and talents, the Clovis Botanical Garden would not exist. We encourage and invite you to become a volunteer.
The History of Clovis Botanical Garden
The beginning
1993 – 1995
Groundbreaking
March 2002
First tree planted
November 2002
Garden opened to the public
April 2004
Dept of Water Resources Grant
July 2005
Visitors increase and the Garden expands
2006 – 2009
Shade shelter added for plant sales
2009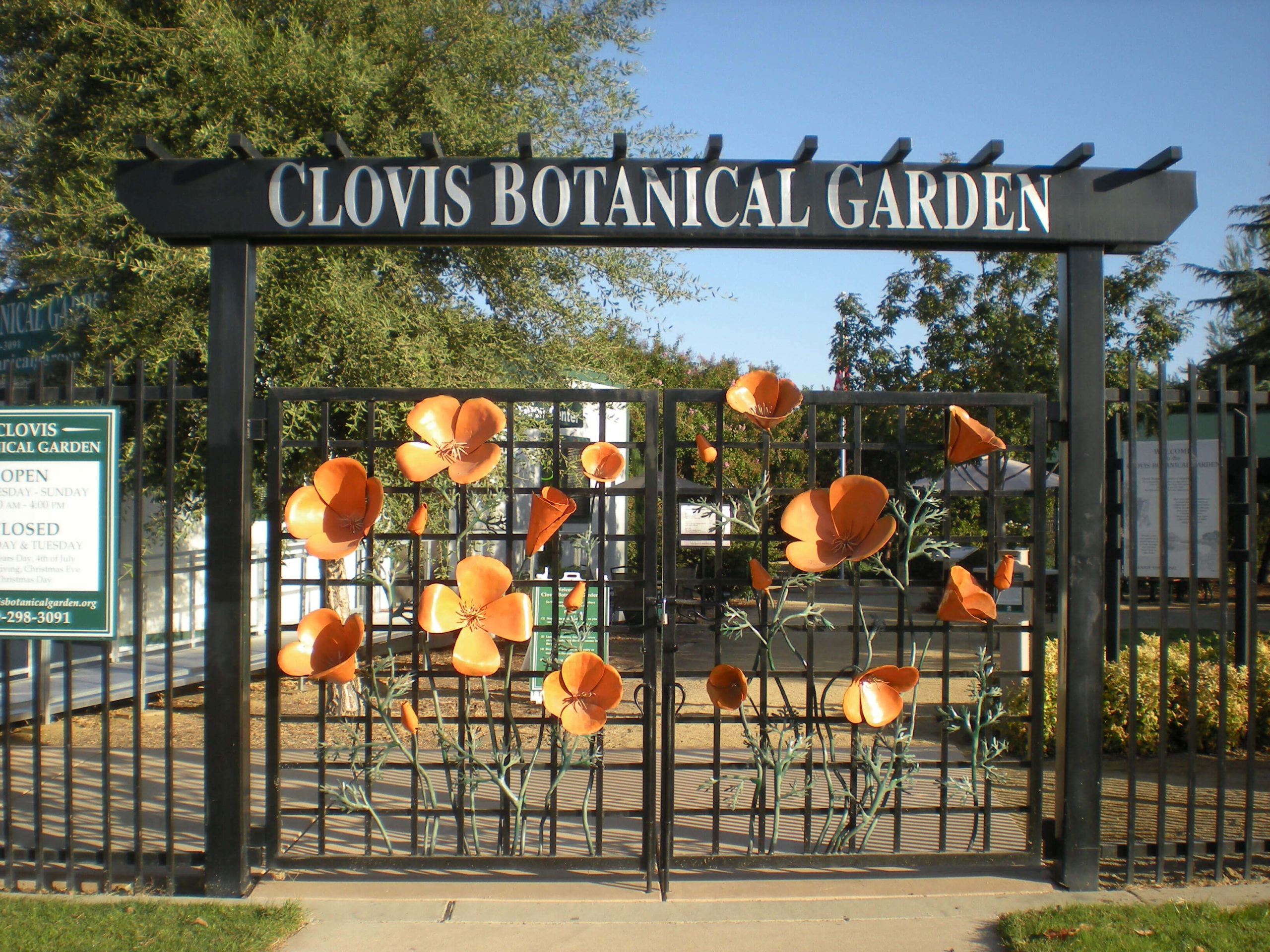 Poppy gate installed
July 2010
Cactus garden planted
2012
The pavilion was built and ready for events
2016
Mediterranean, South Africian, Chilean and Native CA gardens completed
2018
Water-wise demonstration gardens complete
2018
Sensory garden complete
2019
Children's garden nears completion
2021
Ornamental grass display
2022+
Clovis Botanical Board Members
Anne Clemons, President
Pat Wynne, Vice President
Carole Bence, Secretary
Andrea Reed, Treasurer
Perry Coy, Member
Carolyn Dickson, Member
John Pape, Member
Leticia Ramirez, Member
Advisory Committee
Eric Aller, Clovis City Parks Director
Karin Chao Bushoven
John Bushoven, Ph.D., Plant Science Dept, CSUF
Dwight Kroll, Clovis City Planning Director, retired